Good to Great – Top 5 must have Swimming Pool Add-ons
Swimming pools are not meant to be water body that holds the water for people to swim in it. Well that's a prime purpose of having a swimming pool but the pool is a place of relaxation, a place for fun memories, a place for health activity. Hence it requires the same attention to details as you put in designing your bedroom or drawing room. Crafting your dream pool means getting the right swimming pool features and addons at right locations.
While considering the features to bring more life to your swimming pool it is important to take into account the size and the theme of your swimming pool area. Many a times, we have seen people opting for too many pool features added-on and ruining the aesthetic look of pool area. We hope that this article will you recognize how much in enough and consider LESS as MORE when it comes to adding extra features to your swimming pools.
Important Consideration
Another aspect to consider when planning on adding pool accessories is the initial cost and more importantly the running cost of that particular equipment. Some features are inexpensive like a simple adding a simple pool hand rail or a small waterfall. Basic features like these don't break your bank whereas there are other elements that require a higher budget and more care and maintenance in order to keep operational.
Last but not the least, it is important to consider the safety and comfort while installing the any pool feature. For instance if you have pets or small children around your pool area then it would be wise to consider adding pool fence or pool covers. Also it would be great to keep pool safety equipment readily available at your swimming pool.
So let's get to the point, listed below are some features and ideas that could be incorporated to your swimming pool to make your pool from Good to Great. Once done, you can enjoy a very pleasant and appealing sight of your swimming pool with a range of pool features. Gone are the days when a diving board was regarded as cool pool feature. Now you have option to add many cool pool features, like remotely controlled lights, fancy waterfalls and more.
1. Water Descent / Waterfall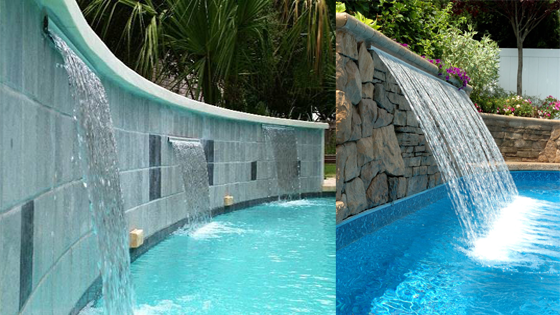 Water descentcreates a shape of curve water. There are various options available when it comes to sheer descents. Wide range of effects can be created via different models and sizes available in the form of standard trajectory, arc trajectory or sheer trajectory. There is an additional possibility to have LED lights installed to create colorful display through falling water.
2. Pool Lighting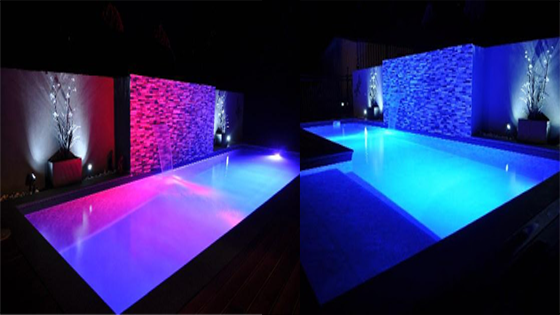 Lighting your swimming pool can turn your pool into a magical space at night. At Crystal Pool, we have wide variety of lights to add life to your pool. Mainly there are two types of lights available i.e. Halogen lights and LED lights. Now a days LED lights are in high demand and are available in various color combination and power ranges such as Cool white, Warm white and RGB colors come in 12 watts, 18 watts, 21 watts and 38 watts categories.
One of the main reasons to light a swimming pool is to make it look beautiful and attractive. Even when you are not using your pool for a swim, with the right lighting combination you will always enjoy its beauty. Then there is one more major factor to consider installing pool lights, is safety i.e. is a paramount concern.
3. Swim Up Bars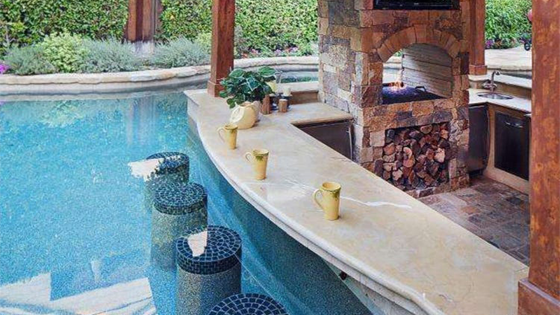 One of the most attractive features to consider having in your pool is the facility of Swim-up bars. These water stations make your swimming pool experience an enjoyable one when you sit inside the pool and have a snack or drink without even getting out of the pool.
If you have kids that spend ample amount of time inside the pool, then having a swim bar is worth considering.
4. Pool Shower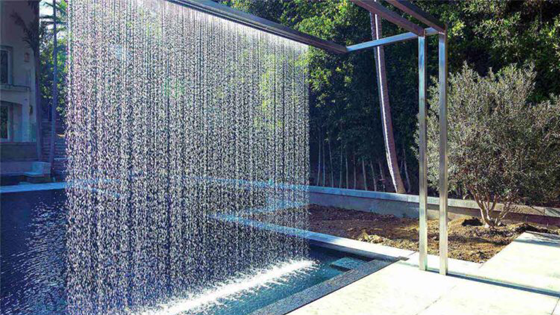 When you are looking to add a pool shower feature the most common one is the outdoor pool shower. But these days there many great ideas to include a rain shower or cobra waterfall in a way that you can enjoy the shower while you are inside the pool water. Whether you are opting for an external or internal shower, it is one of those added feature which your whole family will definitely love as it adds a variety to your pool besides swimming. Standing inside a properly flowing pool waterfall or rain shower has a relaxing therapeutic experience.
5. Pool Handrails & Ladders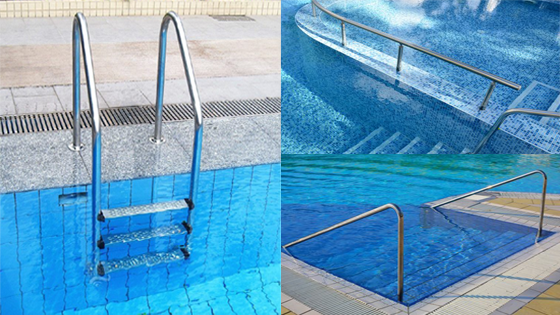 No pool is ever complete with this feature. Its importance is not only to add good looks to your swimming but rather adds a big measure of safety to every swimming pool site. With the right selection and proper placement of handrails and ladders can surely help the pool user avoid accidents around the pool entry and exit points as well as across whole pool area.
At Crystal Pool we have ready made as well as custom designed in-pool ladder options that are suitable for price conscious pool owners. Mainly our handrails and ladders are made o stainless steel. These features are most durable, comfortable and aesthetically pleasing way to get in and out of pool waters.
Please visit our products section to browse through various pool features available at Crystal Pool, Your One Stop Pool Shop.