Pool Filters
At Crystal Pool we have wide variety of pool filters for residential and commercial swimming pools. From side mounted to top mounted, from fiberglass bobbin wound to laminated (gel coated) filters. We have it all. Some of the top brands like Astral, Emaux, Gemas & Minder are availlable in variety of models and sizes.
Original & high quality filters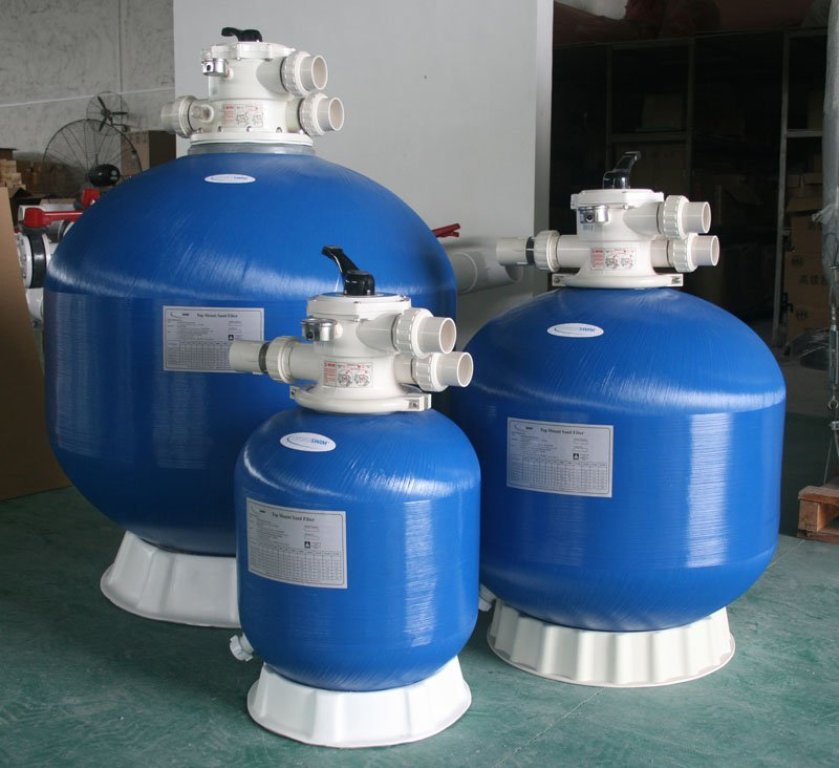 FeaturING
TOP BRANDS OF POOL FILTERS
ASTRAL SPAIN POOL FILTERS
Aster filter – high quality of filtration
HIGH-PERFORMANCE LAMINATED SAND FILTERS
Laminated filter made of fibreglass and polyester. Filter bed 800 mm in depth. Grey in colour, polypropylene base, new boltless lid, water drainage plug, flowmeter and side multiport valve. Maximum pressure of 2.5 kg/cm2. Top filtration speed of 50 m3/h/m2. The filter can be used with a single layer or a multi-layer combination of gravel with sand, glass or anthracite. Quick-release lid. Has a 21/2″ sand discharge out let at the bottom of the filter. Optional sand discharge outlet of 200 mm. Optional vinylester interior finish for treatment with ozone. Top working temperature of 40 ºC.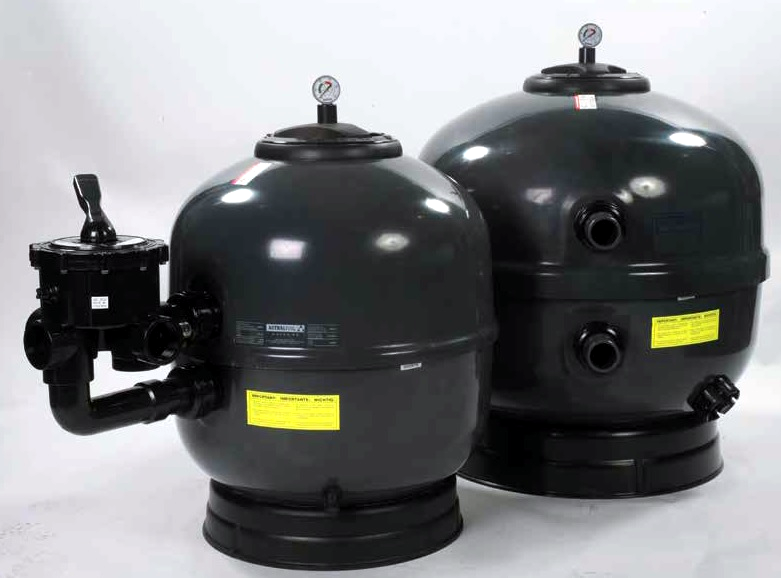 GEMAS TURKEY POOL FILTERS
GEMAS "FILTEGRA" SAND FILTERS.
Filter Shell Made of Smooth ABS plastic which decreases algea and bacteria cling inside filter. Outer Shell is MONOBLOCK GELCOATED
FR POLYESTER. UNLIKE THE UNIVERSAL LAMINATED FILTERS 2 PART BODY STRUCTURE, FILTEGRA HAS BEEN DESIGNED TO BE PRODUCED WITH A UNIQUE TECHNIQUE WHICH RESULTS A MONOBLOCK SMOOTH, GELCOATED OUTER BODY. Complete with pressure gauge and side mounted multiport valve. Maximum Working Pressure 2,5 kg /cm2. Test Pressure 4 kg/cm2. Filtration Rate 50 m3/h/m2.
10 YEARS SHELL WARRANTY
Valve: 
1,5″ Multiport Valve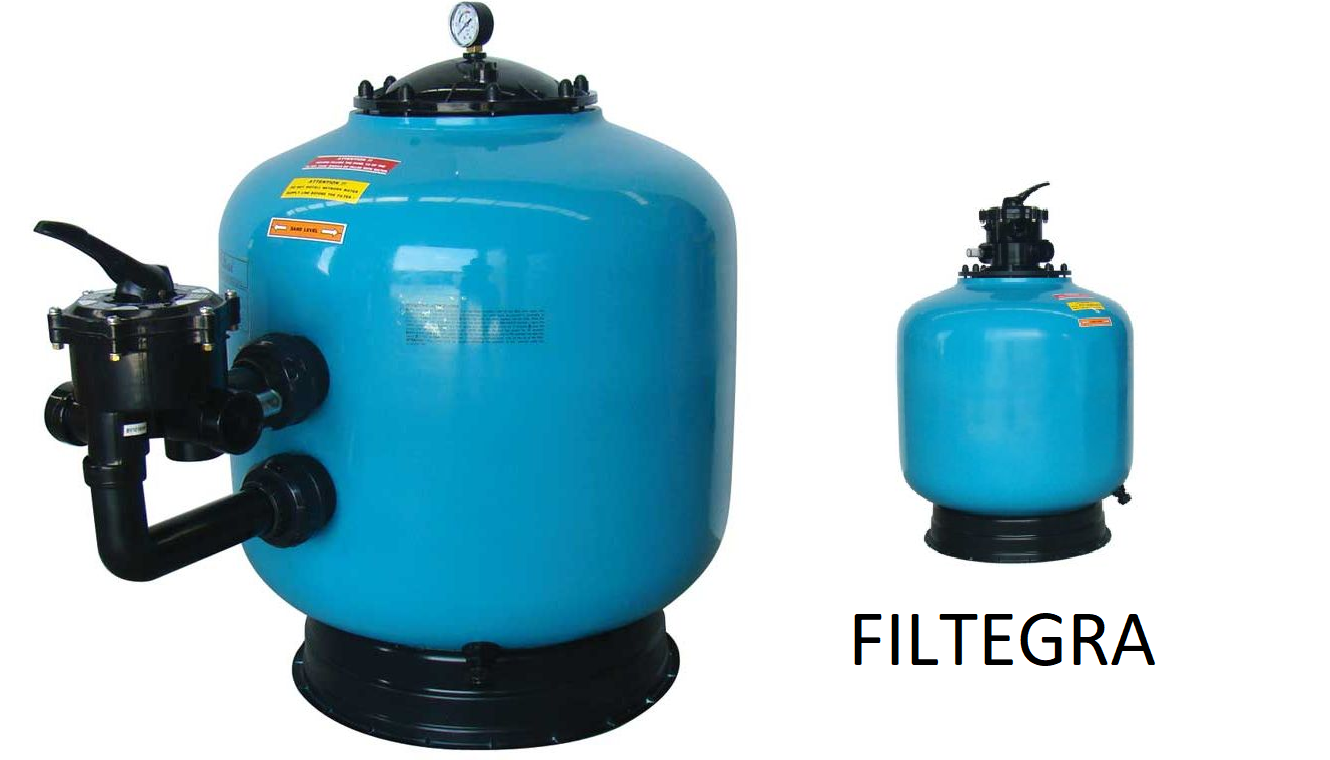 MINDER AUSTRALIA POOL FILTERS
MINDER M & MS SERIES "CLASSIC" SAND FILTERS.
Minder M & MS Series filter is Innovative and professional design for domestic filtration system. The filter comes in two variations, with top and side-mounted multiport valve. Minder's special cross-winding bobbin-wound thread technology provides more durability and long life to the filter body than other filter types in the market.
Features & Advantages
• 100% factory tested according to international standard and MINDER improved standard.
• Automatic air release valve enables automatic release of trapped air during filter operation or negative pressure during water drain. • Easy to use durable 6-ways multiport valve fitted with EP angle adjustable union to prevent pipe breakage during handling
• Materials used are dependable and suitable for II-weather performance
• Dual layers of fibreglass inner shell with UV resistant bobbin wound reinforced fibreglass surface allows the filter to work under direct sunlight
Warranty: Multiport valve & fittings 1 year Filter Tank 5 years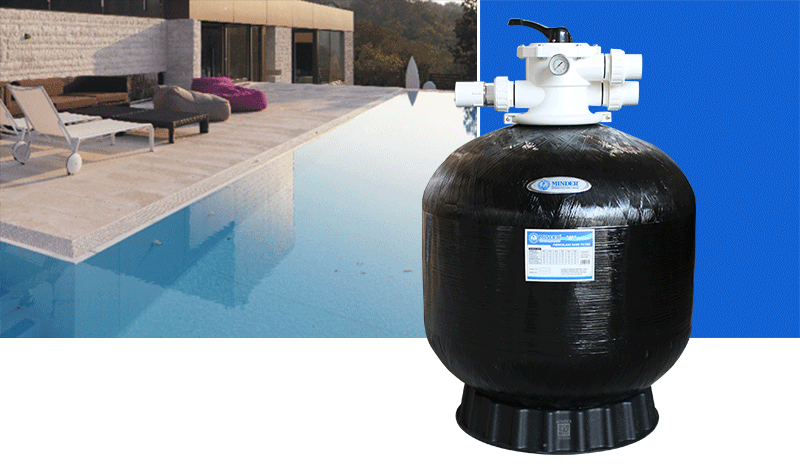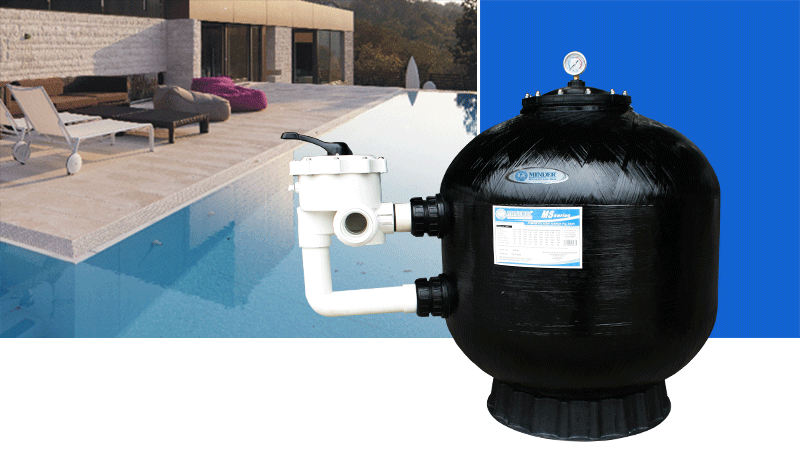 EMAUX POOL FILTERS
Volumetric Filter 
For residential and semi-commercial pools
A one—piece blow molded tank combining the technology of structural engineered high density poly ethylene material manufactured to maximize the strength of the filter.
The Volumetric Filter is engineered for the best clarity of filtered water and an outstanding pressure standard among the market benchmarks.
The filter incorporates a multiport valve manufactured from robust components to create the most efficient, reliable, and user-friendly filter with the best value for money positioning in the market.
Product Information:
Tank Material: HDPE
Max operating pressure 58 psi /4 bar
Max temperature of 50°C (122°F)
Universal standard of union connection is provided\
Suggested size of media : 0.5-0.8mmPVC & ABS lateral is provided
Pressure gauge is provided
Equipped with 6-way clamp style multiport valve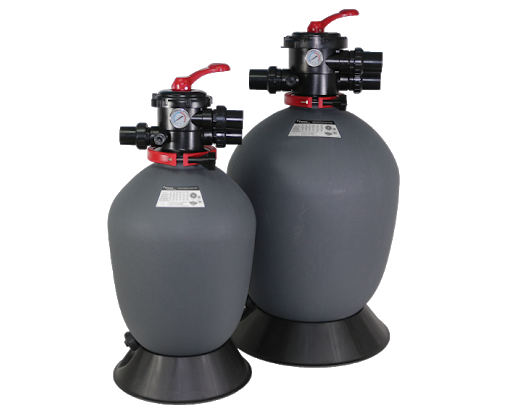 AQUAKIARA TURKEY POOL FILTERS
"BLUE ELEPHANT" SAND FILTERS.
Commercial grade pool sand filter is produced with high chemical resistance isophthalic polyester resin.
Features & Advantages
• Made as per EU standards and specification.
• Supplied with ASTRAL spain multiport valves.
Warranty: Filter Tank  5 years +  1 year  Multiport valve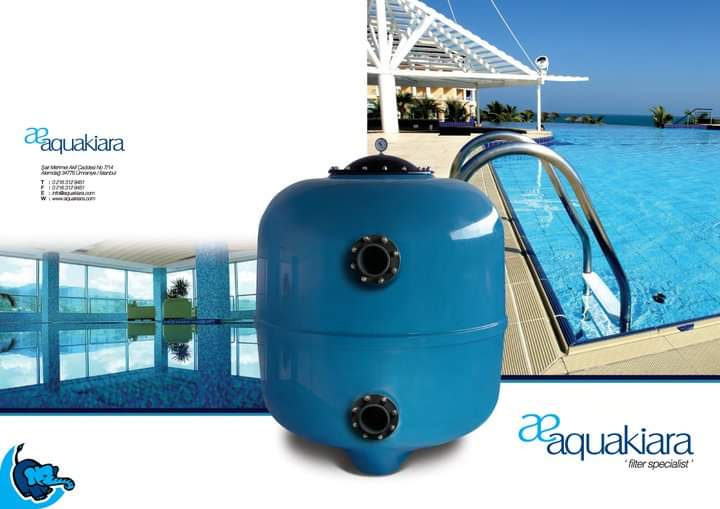 Free Consultation & Visit
We believe in knowledge sharing. We never hold back any information so when you conatct Crystal Pool be sure that you will get maximum support and information. Plus we dont charge a single penny for consulting clients or visiting pool sites.