Portfolio
Residential Pools
Dive into the world of elegance and innovation as we unveil our latest creation – an exquisite basement infinity pool in the heart of DHA Karachi. From its robust steel structure to the warm glow of LED lights and the harmony of the Astral filtration system, every detail has been meticulously crafted to redefine luxury.
Welcome to a world of opulence and relaxation right beneath your feet. Join us on a journey through our latest project executed by Crystal Pool – an exquisite basement swimming pool seamlessly paired with an adjacent jacuzzi. This captivating combination brings together the soothing elegance of water, the allure of modern design, and the expertise of Crystal Pool's craftsmanship.
Immerse yourself in the gentle flow of the pool's water features, be enchanted by the underwater lighting, and let the adjacent jacuzzi's warm embrace melt away your cares. Your home's basement transforms into a haven of serenity and luxury, where every detail is meticulously crafted to create an unforgettable experience.
This residential swimming pool project was designed by one of the top architects of the city. There were multiple waterfalls in the house and we executed a challenging 10 meter high waterfall project. Crystal Pool was referred to client by our one of the old satisfied customer.
Some of basic pool plumbing work done by another company but the client was not satisfied with them. So there was an added pressure on us to execute this pool project with full efficiency. Here is some of the major work carried out on this project: – Pool plumbing was done from scratch – Pool waterfalls were installed – High quality pool filtration system was installed – High quality LED RGB Pool lights with remote control system were installed
Rain Shower Pool
Pool Type: Small Basememnt Pool
Project Location: Phase 8, DHA, Karachi
Project Details: Client showed a picture from internet and we custom built complete rain shower with LED lights. Additionally, all plumbing and filtration system installation was executed by Crystal Pool.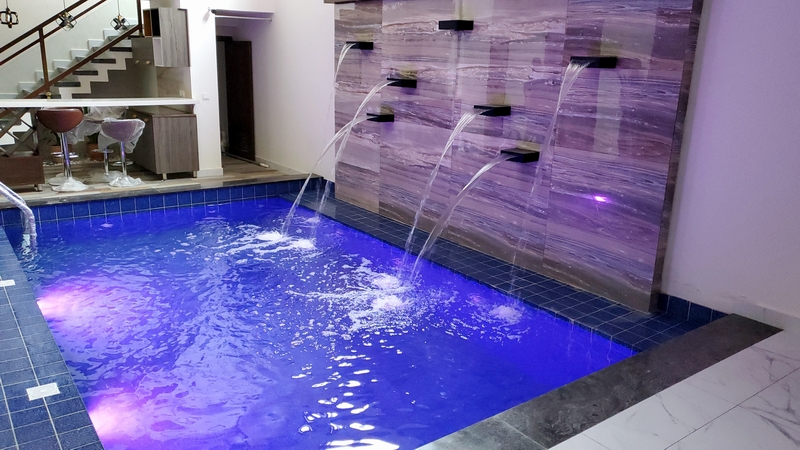 Waterfall Wall Pool
Pool Type: Small Basememnt Pool
Project Location: Phase 8, DHA, Karachi
Project Details: Client asked for a customized waterfall design and we made it exactly the way he desired. Complete pool plumbing, filtration system, RGB LED lights were installed by Crystal Pool.