Pool Repairs
At Crystal Pool we use trained and experienced technicians to repair, install, or replace pool equipment. And as experts of dealing with top brands like Pentair, Hayward, Astral, Emaux, Gemas & Minder etc. we know the product models and what works best!
Experienced Diagnostic Team
High Quality Equipment Repairs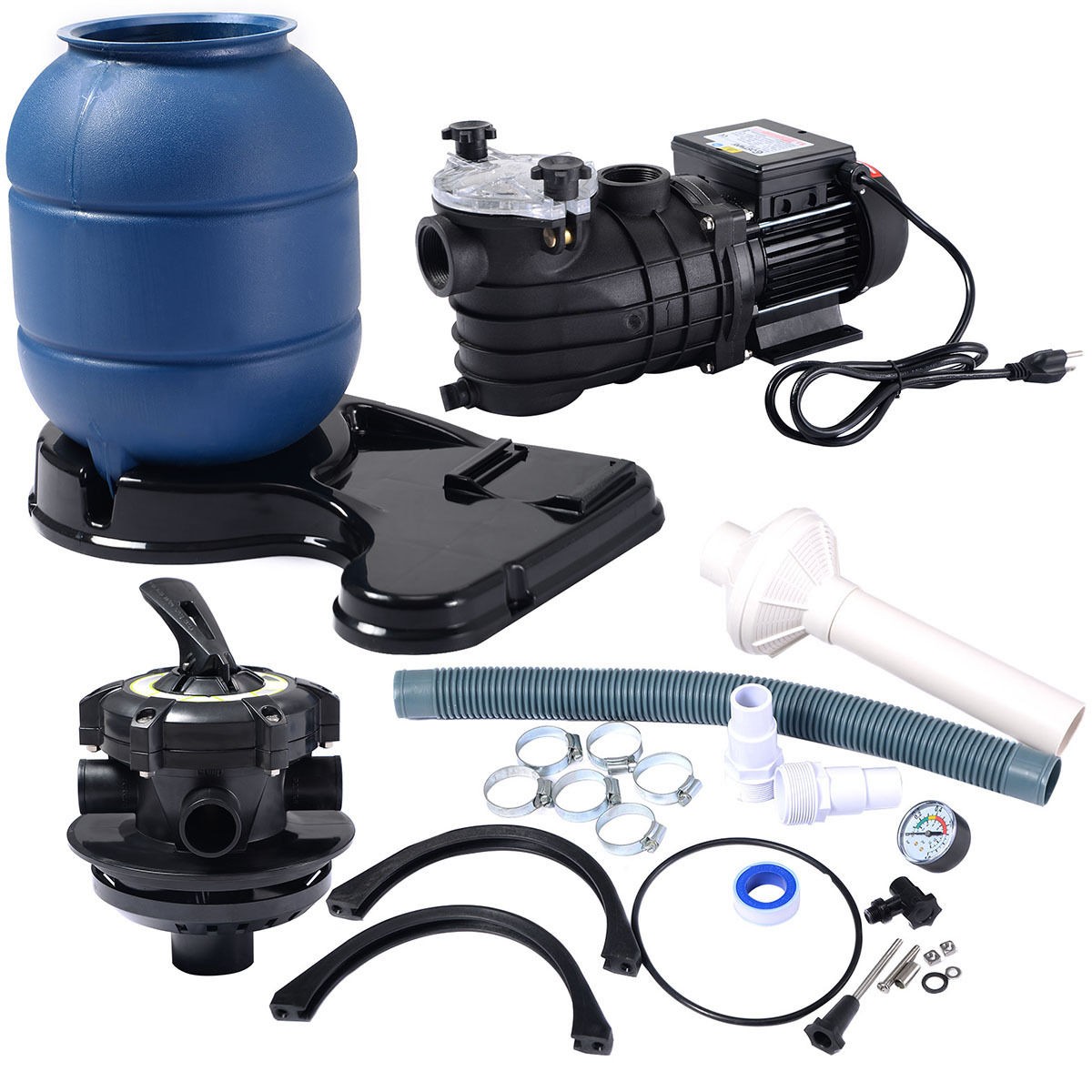 Features
Why hire us for your pool repairs?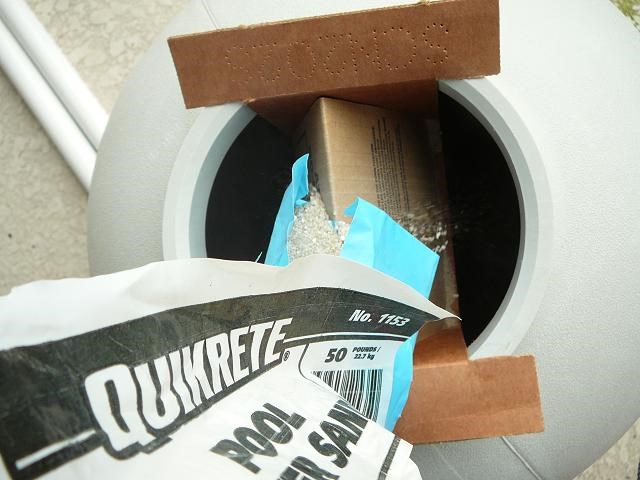 Pool Filter Service
Filters are designed to get dirty! And as they become clogged, the water pressure increases. So a pressure gauge will tell you when the filter requires attention. Filters are an essential part of your pool plumbing system because contaminated water is going to affect the pump and heating. We just recommended smaller pool pumps, however always get the largest one you can afford.
There are three types of filter. Diatomaceous Earth (DE), sand or cartridge. Many commercial & residential pool filtration services will recommend the DE filter OR Sand filters, which are highly efficient. In the case of these pool filters, when the filter pressure rises, backwashing is required. Then dirty filter media is removed, and new added. In addition to this, an annual or semi-annual maintenance cleaning is also required. This is a complete strip down, drain and hose.
However all filters have pros and cons regarding ease of cleaning and maintenance, and our experienced service team will discuss options with you. If you have any concerns about an old or dangerous looking filter, ask our team for a consultation.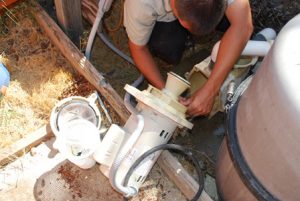 Pool Pumps Repair Services
If the pump malfunctions it is going to affect the entire pool heating and water system because the electrical pump is what keeps your pool circulation system moving. Water is drawn out via the skimmer to remove larger surface debris, and when it reaches the pump it goes through an initial filter. The water is then decontaminated and refiltered. After this process, the pump returns the clean warm water back to the pool.
With the appropriate care and normal safe usage, pool pumps last about 8-10 years before needing replacing. The servicing of commercial & residential pool pumps and plumbing will alert you to changes in the pump motor or parts so that you can get it fixed before any damage is done to other pool equipment and machinery. Unusual noises, rusting parts, damaged electrical connections will all need immediate attention.
If your pump remains strong but is quite old, our service team could save you money by fitting a new, more efficient model. Although pump designs haven't changed much manufacturers have been working hard to build pumps which consume less energy. They may recommend a smaller pump, because bigger isn't always better. Additionally the smaller the amperage draw of the motor, the less expensive it will be to operate.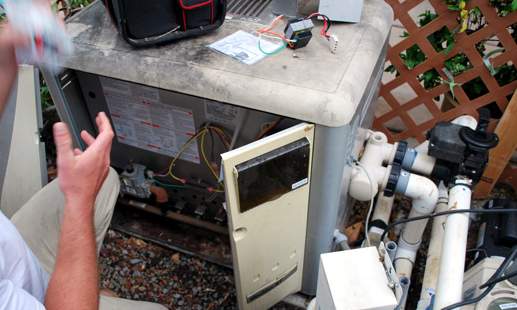 Pool Heater Repair Services
Lets face it, you have a pool because you enjoy being able to swim whenever you like, regardless of season or outside temperature. Depending on the weather and climate, you will rely on heating to ensure a comfortable and pleasurable experience. Swimming pool heaters need special care. Aside from your house central heating and electrics, they the most complicated pieces of domestic equipment you own.
Therefore if you have a problem with it, any repairs to pool heaters should be carried out by qualified professionals. Any insurance or equipment manufacture warranty and guarantee will also require you to call in trained experts. Otherwise you risk invalidation, as well as causing further damage to the pool heater and other parts.
There are obviously costs associated with maintaining your pool at an ambient temperature but it is possible to control fuel consumption and prevent waste. Assist your pool heater efficiency and water conservation by using an insulated pool cover, and protecting the pool area from wind protection. Ultimately, prevention of pool problems is preferable. You can ensure breakdowns or repairs are kept to a minimum with regular annual pool heater servicing by our residential pool heater specialist.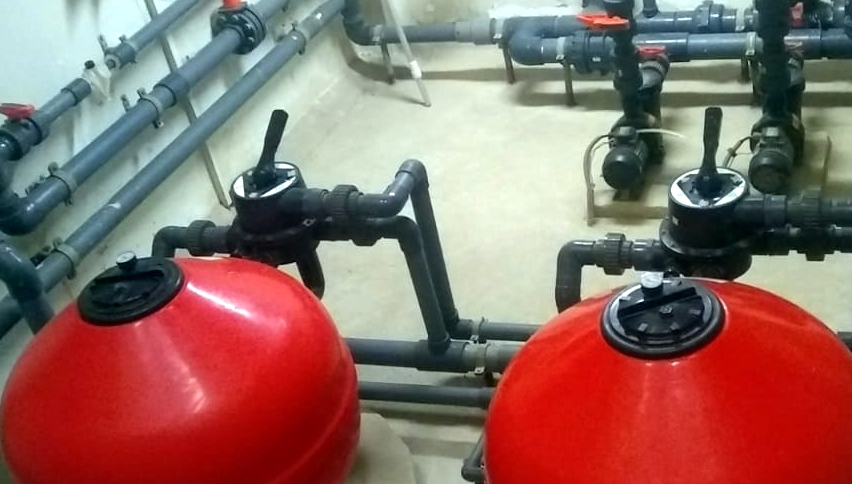 Pool Plumbing, Installation & Upgrades
If you're looking to upgrade your pool's equipment, we'll make it simple! The first step is to set up a convenient time to evaluate your pool and find out what your goals are, then give you the options for new equipment/upgrades that will work best with your current pool systems.
Whether you're looking to install an automated pool system, replace your pump with an energy-efficient variable-speed pump or simply add a water heater, our trained repair technicians will help you choose the right equipment to optimize operation and the lifespan of your pool system.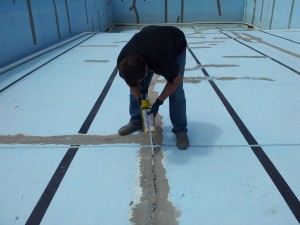 Pool Tiles & Leakage Repairs
Our highly trained and skilled Repair Technicians have the expertise to detect the leakages and diagnose your equipment or if necessary, select the most efficient replacement equipment. If you are experiencing a problem with equipment, lighting, leaks, or plumbing, we can help get your pool back in proper working order.
Our technicians will evaluate your pool bottom, walls, sides, pipes, fittings and give you expert advice, and suggest repairs or replacement equipment that will work with your pool's systems to insure optimum functionality of all components.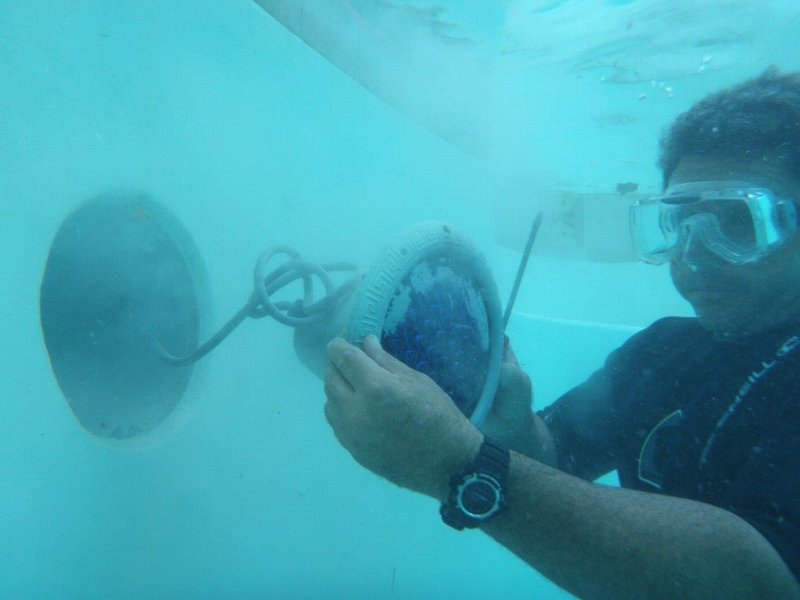 Pool Light Repairs & Upgrades
Whether your old lights are broken or fused. Whether your  lights are halogen or LED. We can repair almost all the models of lights.
Incase lights cannot be repaired then we can always upgrade to more durable and lastest models of pool lights.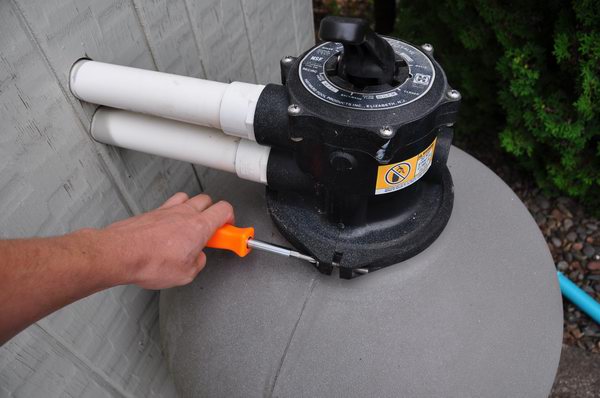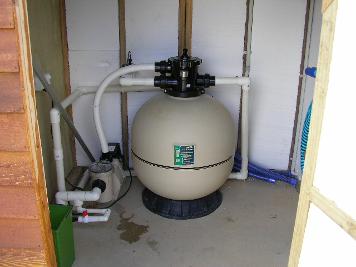 Replacing Pool / Jacuzzi / Spa Equipment
When your equipment has decided that it can no longer make it through that next summer. We offer a full line of products that can meet the needs of your swimming pool. Crystal Pool has the experience and qualifications to properly and safely troubleshoot, repair, or replace all or part of your Swimming Pool's Equipment System. Or you simply may want to replace your outdated equipment with a new energy efficient system and we can show you options and help you with that too.
Your Swimming Pool Equipment System may include:
| | | |
| --- | --- | --- |
|    Pool Pump Motor |   | LED Pool Lighting |
|    Pool Filter |   | Water Feature Lights |
|    Pool Filter Pump |   | Pool Electrical Panel |
|    Booster Pump |   | GFI & Grounding Protection |
|    Water Feature Pump & Motor |   | Equipment Control System |
|   Jacuzzi Pump & Motor |   | Automatic Timer |
|    Spa Blower Motor |   | Pool Heater |
Still Not Sure If Crystal Pool Is A Right Choice for You?
We strive for utmost customer satisfaction. Every project is special and we leave no stone unturned to make it a memorable experience for our customers. Lets talk in person to know more about us.
What They're Saying
Customer Testimonials
I tried to call many pool companies but since my site was far awy from the city, no one came to visit. This was not the case with Crystal Pool. Not only they visited without any charges but also rectified the mistakes made by our contractor.
If you have a challenging project and no other pool company is willing to take it up then try Crystal Pool. We have partnered in multiple pool projects with them and found them straight forward, professional and competitive. 
Since I had a small backyard where I wanted to have a swimming pool for my children. Initially I tried Intex pools but soon found out that its hectic to maintain. Then I hired Crystal Pool to build an inground pool and I am happy I did so.
Free Consultation & Visit
We believe in knowledge sharing. We never hold back any information so when you conatct Crystal Pool be sure that you will get maximum support and information. Plus we dont charge a single penny for consulting clients or visiting pool sites.